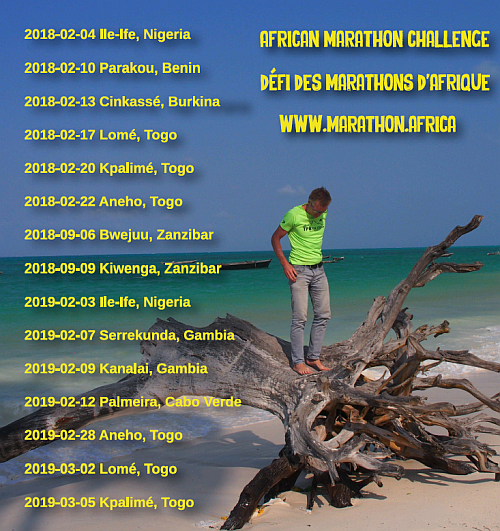 Welcome runners to the African Marathon Challenge
This series of charity marathons started in February 2017. We ran the tropical marathons and beautiful trails in Togo, Benin, Nigeria, Burkina Faso and Ghana.
In September 2018 we will run 2 International Marathons on Zanzibar. Thus the former West African Marathon Challenge is extended by Tansania.
In February 2019 we will again run the cradle of Yoruba: The Ile-Ife Marathon in Nigeria. From Lagos we will travel to Banjul where the first 2 International Marathons of The Gambia will take place. In the desert of the island Sal (Cape Verde Islands) another marathon will follow.
At the end of February 2019 we will meet in Togo again: In Aného close to the border of Benin the Marathon des Royaumes will be started. In the beginning of march we will run the Mon Devoir School Marathon in Lomé together with 250 children. Last but not least we will enjoy the Trail-Marathon du Papillons. Starting in Kpalimé we will cross the Atacora mountain chain.
Best regards from the world of tropical marathons
Christof, Email: linde(at)webgis.de
Please contact me to get a free account to login to marathon.africa where you will find all results and a lot of impressions.