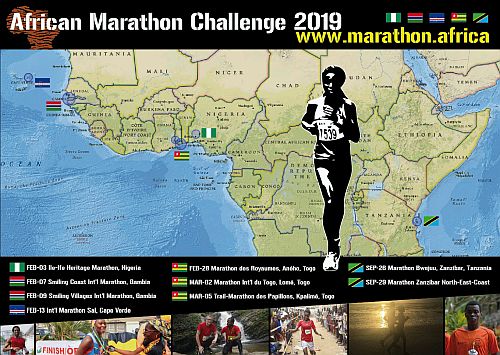 The African Marathon Challenge in Tanzania, The Gambia and Togo offers tropical marathons in a family atmosphere. The AMC is a series of charity events that supports long-standing educational projects. Exotic instead of Big City: Off the beaten tourist tracks, the marathons are organized and celebrated with the people in the villages. No one remains a stranger here for long and leaves as a friend. The marathons do not just begin at the start. All of the 15 AMC events have been really family so far. There was far-reaching assistance with transfers, hotels and an easy-going get-together where friendships developed.

The running dates also offer the opportunity to combine the journeys with the marathons in Ile-Ife, Nigeria and Parakou, Benin, which are linked in partnership with the African Marathon Challenge.

AMC, that is much more than "Big City" events. Convince yourself in paradise: My Zanzibar family is looking forward to seeing you in September.
2nd Ile Ife Heritage Marathon
1st Smiling Coast Int'l Marathon
1st Smiling Villages Int'l Marathon
1st International Sal Marathon (canceled due to transport problem Gambia-Sal)
1st Marathon des Royaumes
3rd Marathon Int'l du Togo
3rd Trail-Marathon des Papillons
2nd Int'l Marathon Zanzibar South-East Coast
2nd Int'l Marathon Zanzibar North-East Coast